The Old Man of the Sea Book download in PDF, ePub & Mobi
The Old Man of the Sea is a short story originally written by W. W. Jacobs in 1911 included in Ship's Company book.
This is a very quick to read, romantic tale of seafaring adventures, which tells the story of an older sailor who tries to woo a widow with a series of lies.
His young companion tries to tell the truth, but they are called back to sea....
This book is illustrated with original drawings by Will Owen.
"What I want you to do," said Mr. George Wright, as he leaned towards the old sailor, "is to be an uncle to me."
"Aye, aye," said the mystified Mr. Kemp, pausing with a mug of beer midway to his lips.
"A rich uncle," continued the young man, lowering his voice to prevent any keen ears in the next bar from acquiring useless knowledge. "An uncle from New Zealand, who is going to leave me all 'is money."
0 hours 21 minutes (4286 words)
About this book
The The Old Man of the Sea book is available for download in PDF, ePUB and Mobi
Date added: 06-20-2022
Total views: 363
Total downloads: 127
Share this book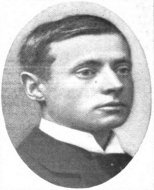 William Wymark Jacobs was an English author of short fiction and drama. His best remembered story is "The Monkey's Paw" and several other ghost sto...
We have 2 books by W. W. Jacobs in Alice and Books library
You may like...