Anna of the Five Towns Book download in PDF, ePub & Mobi
Anna of the Five Towns is a novel written by Arnold Bennett and first published in 1902. It is one of the writer's best known works.
The book tells the story of Annie, the eldest daughter of a self-made businessman in the Potteries. When the novel begins, Annie is a 20-year-old virgin who is satisfied with her life. She maintains a very good relationship with her father and is very close to her two younger sisters.
However, Annie's life takes a complete turn when her father passes away fortuitously and she is forced to support her family, working as a milliner in a local department store. She is also forced to move out of her comfortable home and into a small apartment.
Annie's new life is difficult, but she is determined to make the best of it and face all the challenges that come with this change.
The novel is set in the fictional town of Five Towns, which is based on the real Potteries towns in Staffordshire. It was very popular when it was first published and is still considered one of Bennett's best works.
The Five Towns Series, Volume 2
6 hours 11 minutes (74310 words)
About this book
The Anna of the Five Towns book is available for download in PDF, ePUB and Mobi
Date added: 30-04-2021
Total views: 684
Total downloads: 507
Share this book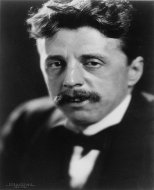 Enoch Arnold Bennett was an English author, best known as a novelist. He was a prolific writer, He wrote articles and stories for more than 100 differ...
We have 5 books by Arnold Bennett in Alice and Books library
You may like...