One of Ours Book download in PDF, ePub & Mobi
One of Ours is a novel written by Willa Cather and originally published in 1922, for which the author won the Pulitzer Prize the following year. The novel reflects on the simple people of Nebraska and the global impact of World War I.
Claude Wheeler is a young American native of Nebraska, the son of well-to-do farmers, in the first decades of the 20th century. Claude works on the family farm while he studies at the university, in search of his own success outside the shelter of his father.
After meeting a family of German immigrants, he knows other ways of thinking and points of view. However, the young man will have to drop out of school to run the farm.
When the First World War broke out and the United States participated in the conflict, the young man enlisted in the army to flee from his current traditional life, seeking and longing for his freedom.
"Claude Wheeler opened his eyes before the sun was up and vigorously shook his younger brother, who lay in the other half of the same bed. 'Ralph, Ralph, get awake! Come down and help me wash the car...'"
7 hours 35 minutes (91088 words)
About this book
The One of Ours book is available for download in PDF, ePUB and Mobi
Date added: 12-07-2021
Total views: 1086
Total downloads: 417
Included in collections:
Share this book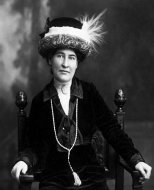 Willa Sibert Cather was an American writer. In 1923 she was awarded the Pulitzer Prize for One of Ours, a novel set during World War I.
We have 6 books by Willa Cather in Alice and Books library
You may like...