The Deerslayer Book download in PDF, ePub & Mobi
The Deerslayer is a historical novel written by James Fenimore Cooper and originally published in 1841.
Deerslayer is the name given by the Indians to the 22-year-old Natty Bumppo, who after being orphaned has grown up among them in the New York Appalachians.
Natty Bumppo travels in the company of trapper Hurry Harry to find his Indian friend named Chingachgook, as they are both headed for the same place.
However, the young man has not yet known the cruelty of the so-called "civilized" men nor the great conflict between Indians and white pioneers.
Some of the topics Cooper deals with, rather prematurely compared to other authors, are the role of women in frontier life, environmentalism and nature preservation or racial conflicts. These ideas were rare in 1841 and it could be said that he was ahead of his time.
This book belongs to The Leatherstocking Tales Series, #1
17 hours 43 minutes (212636 words)
About this book
The The Deerslayer book is available for download in PDF, ePUB and Mobi
Date added: 04-09-2021
Total views: 1020
Total downloads: 695
Share this book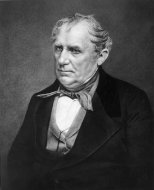 James Fenimore Cooper was an American writer of the first half of the 19th century. His historical romances depicting frontier and Native American lif...
We have 5 books by James Fenimore Cooper in Alice and Books library
You may like...