The Ice Palace Book download in PDF, ePub & Mobi
The Ice Palace is a short story written by F. Scott Fitzgerald and first published in 1920 in his collection of short stories called Flappers and Philosophers.
Sally Carrol Happer is a young woman from Georgia, in the South of the United States, who finds herself trapped in the monotonous and leisurely life of the South. When she meets Harry Bellamy, a young man from the North, she accepts his proposal of marriage in an attempt to find the adventure and excitement in the North that she feels is missing in her current life.
However, the icy landscape of the North and the less welcoming society than in the South make her regret her decision. A pivotal event in her story is Sally's visit to a giant ice palace that is on display as an attraction in the city.
Inside the palace is a maze in which Sally gets lost and must struggle to find a way out while facing her fears and doubts.
Despite its short length, the story is quite profound and deals with themes such as nostalgia or the contrast between the North and the South of the United States.
"The sunlight dripped over the house like golden paint over an art jar, and the freckling shadows here and there only intensified the rigor of the bath of light. "
About this book
The The Ice Palace book is available for download in PDF, ePUB and Mobi
Date added: 10-24-2023
Total views: 312
Total downloads: 70
Copyright info
The Ice Palace by F. Scott Fitzgerald is only thought to be free of copyright restrictions in the United States. It may still be under copyright in other countries. If you're not located in the United States, you must check your local laws to verify that the contents of this ebook are free of copyright restrictions in the country you're located in before downloading The Ice Palace in PDF or ePub.
Share this book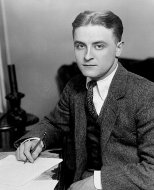 Francis Scott Key Fitzgerald was an American novelist, essayist, screenwriter, and short-story writer. Fitzgerald only received wide critical and popu...
We have 8 books by F. Scott Fitzgerald in Alice and Books library
You may like...