The Mortal Immortal Book download in PDF, ePub & Mobi
The Mortal Immortal is a short story written by Mary Shelley and first published in 1833.
Winzy is a man who looks really young, but he has lived 323 years. It wasn't always like this, Winzy recalls the events that led to his becoming immortal.
He worked with a renowned professor and alchemist named Cornelius Aggripa. Although he initially turned down his offer of employment, the prospect of earning money to provide a good life for Bertha, his childhood sweetheart, made him take the job.
Cornelius Agrippa had been working on a strange elixir for a long time. Winzy didn't really know his function, but one day, after learning that Bertha had left him for another man, he drinks the elixir to try to forget her beloved.
However, the next day the young man wakes up with much more strength, rejuvenated. He doesn't know what happened, but he feels fine. Also, he discovers that Bertha was really faithful to him.
Agrippa tried to continue working, without success, on the elixir. Since Winzy had taken half and thrown away the other half, Agrippa lost all of his work. A few years later, when Agrippa is about to die, he recognizes to Winzy the intention of said elixir: to give immortality to the person who takes it...
Although at first it seems something positive, little by little he will see how the people around him age. This will cause him great pain, especially in the case of his beloved Bertha, since everything he loves disappears and he will have to endure the psychological torture of seeing it...
0 hours 27 minutes (5497 words)
About this book
The The Mortal Immortal book is available for download in PDF, ePUB and Mobi
Date added: 10-11-2021
Total views: 664
Total downloads: 335
Share this book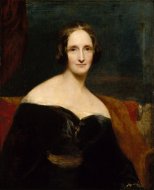 Mary Shelley was an English novelist who wrote Frankenstein, which is considered an early example of science fiction.
She also edited and ...
We have 9 books by Mary Shelley in Alice and Books library
You may like...