White Nights Book download in PDF, ePub & Mobi
White Nights is a short story written by Fyodor Dostoevsky and first published in 1848.
The story, narrated in the first person, is about a lonely young man who wanders the streets while thinking about how sad and lonely his old age will be and searching for the meaning of his life.
He has never fallen in love or had much contact with women until he meets the young Nastenka on one of his routine walks and falls in love with her instantly. At that moment he begins to visualise a future in which the dreams that have so far eluded him can be present. The story is structured over four nights and one morning.
This edition of the short story White Nights is based on the translation by Constance Garnett.
"It was a wonderful night, such a night as is only possible when we are young, dear reader. The sky was so starry, so bright that, looking at it, one could not help asking oneself whether ill-humoured and capricious people could live under such a sky."
About this book
The White Nights book is available for download in PDF, ePUB and Mobi
Date added: 02-27-2023
Total views: 120
Total downloads: 25
Share this book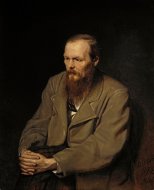 Russian novelist, philosopher, short story writer, essayist, and journalist.
In his work, he explored human psychology in the troubled pol...
We have 10 books by Fyodor Dostoevsky in Alice and Books library
You may like...