The Double Book download in PDF, ePub & Mobi
The Double: A Petersburg Poem is a novel written by Fyodor Dostoevsky and originally published in 1846. It is the second novel by the Russian writer.
Yakov Petrovich Goliadkin is an apparently normal and ordinary man. He works as a civil servant, which allows him to live comfortably and even has a servant named Petrushka.
However, from the very beginning of the novel we learn that he has a strange personality and great difficulty in relating to other people. He feels pressured and self-conscious about those above him in the hierarchy.
His life will change completely when his "double" appears, with a personality totally opposite to Goliadkin's, which earns him the admiration of his colleagues and bosses. This psychological disorder will worsen and will lead Goliadkin to an extreme situation...
This edition of the book The Double is based on the translation by Constance Garnett.
"It was a little before eight o'clock in the morning when Yakov Petrovitch Golyadkin, a titular councillor, woke up from a long sleep. He yawned, stretched, and at last opened his eyes completely."
5 hours 18 minutes (63664 words)
About this book
The The Double book is available for download in PDF, ePUB and Mobi
Date added: 09-24-2023
Total views: 517
Total downloads: 168
Copyright info
The Double by Fyodor Dostoevsky is only thought to be free of copyright restrictions in the United States. It may still be under copyright in other countries. If you're not located in the United States, you must check your local laws to verify that the contents of this ebook are free of copyright restrictions in the country you're located in before downloading The Double in PDF or ePub.
Share this book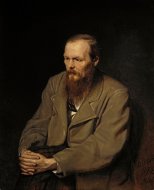 Russian novelist, philosopher, short story writer, essayist, and journalist. His work explored human psychology in the troubled political, social, ...
We have 16 books by Fyodor Dostoevsky in Alice and Books library
You may like...