This Side of Paradise Book download in PDF, ePub & Mobi
This Side of Paradise is a novel written by F. Scott Fitzgerald and published in 1920. This book, the writer's first novel, examines the carefree youth and their lifestyle in the America at the beginning of the Jazz Age.
Amory Blaine is an attractive young student at Princeton University who is starting his career in the world of literature. He spends his days writing and has a series of romances with flappers. The novel delves into the morals of Jazz Age youth, who were teenagers during World War I and not as affected by the horrors of war. The novel details the leisure activities of the youth of the time, with a certain immorality perceived by society.
Several critics state that the figure of the protagonist is based on the author himself, since there are some parallels such as the fact that both were recruited for the army after studying at Princeton.
"In her less important moments she returned to America, met Stephen Blaine and married him—this almost entirely because she was a little bit weary, a little bit sad. Her only child was carried through a tiresome season and brought into the world on a spring day in ninety-six".
6 hours 50 minutes (82115 words)
About this book
The This Side of Paradise book is available for download in PDF, ePUB and Mobi
Date added: 05-24-2022
Total views: 2126
Total downloads: 534
Share this book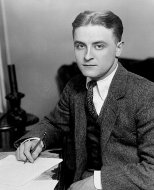 Francis Scott Key Fitzgerald was an American novelist, essayist, screenwriter, and short-story writer. Fitzgerald only received wide critical and popu...
We have 4 books by F. Scott Fitzgerald in Alice and Books library
You may like...