The Idiot Book download in PDF, ePub & Mobi
The Idiot is a novel written by Fyodor Dostoevsky and originally published in 1869, although it was not translated into English until the 20th century.
The book tells the story of a young man, Prince Myshkin, who is considered an idiot because of his innocence and childish trust in people.
Despite this, he manages to win the hearts of everyone around him and ends up falling in love with a young woman named Nastasya.
However, their relationship is threatened by the machinations of a jealous rival, and Myshkin must ultimately choose between his love for Nastasya and his sense of duty to his family.
The book has been praised by many literary critics over the years and is considered one of Dostoevsky's best works. It offers a unique and insightful view of human nature, especially with regard to questions of morality, love, and redemption.
This edition of the book The Idiot is based on the translation by Eva Martin.
20 hours 9 minutes (241999 words)
About this book
The The Idiot book is available for download in PDF, ePUB and Mobi
Date added: 03-03-2021
Total views: 1705
Total downloads: 989
Share this book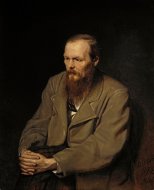 Russian novelist, philosopher, short story writer, essayist, and journalist.
In his work, he explored human psychology in the troubled pol...
We have 11 books by Fyodor Dostoevsky in Alice and Books library
You may like...